Outlook of data centre expansion in APAC
Last year was an unexpected year for all industries, including the data centre industry in APAC. With the accelerated push towards all things digital, technology players witnessed and will continue to experience exceptional growth. While we are hopefully turning a corner in the fight against COVID-19, investment in digital transformation at the same time will continue to grow at an exponential rate.
On top of that, with the massive shift to both private, public or even hybrid cloud, businesses are leveraging the explosion of data as the new currency that will help them gain a competitive edge in today's digital driven economy. So where should data centre operators be looking to grow within the region?
Why Southeast Asia is set to be the fastest growing data centre region in APAC
Historically, data centre development in APAC has taken place in Tier 1 markets such as Hong Kong, Singapore, Sydney and Tokyo. These markets account for most of the data centre capacity in APAC, driven by cloud providers that have deployed their infrastructure.
According to a report by Cushman & Wakefield, Southeast Asia (SEA) is one of the fastest growing markets for data centres globally. The overall APAC data centre market size will be worth US$28 billion by 2024, with SEA accounting for an estimated 13% of the region's total market value.
A closer look at the distribution of data centres in SEA does show a disconnect between capacity and local demand. Tier 1 markets like Singapore, account for over 60% of data centre capacity in SEA despite having only less than 2% of internet users in the region.
However, with an unparalleled acceleration in digital transformation, data centre industry players are facing pressure and the need to expand beyond Tier 1 markets to meet these demands and address existing challenges. Some challenges include land and power constraints and/or increasing regulation – such as sustainability and data sovereignty regulations.
Therefore, Tier 2 markets in SEA with favourable demographics like India, Philippines, Vietnam and Thailand will be the next focus for expansion and explosive growth in APAC. Coupled with the growing appetite for all things digital, the acceleration will create additional attractions to these fast growing data centre markets.


What makes Tier 2 markets so appealing
The key drivers of data centre expansion within Tier 2 markets are twofold. Firstly, the domestic digital demands from Tier 2 markets are exponentially growing, and secondly Tier 2 markets can continue to offer resources such as lands and manpower necessary for data centre developments.
40 million internet users came online in Southeast Asia in 2020, pushing the total number to 400 million. Behind the numbers, there is a pool of young and digital savvy consumers, contributing to a dynamic e-commerce and technology industry and escalating data storage needs. From a talent standpoint, Tier 2 markets will benefit from data centres as well – the digital advancement will help upskill tech personnel and bring new technologies that can be used across other industry sectors.
Additionally, Tier 2 markets have an abundance of landmass for data centre operations to expand, allowing them the physical capabilities to potentially integrate renewable energy technology, which generally requires at least ten times more land area per unit of power produced.
What's more, as governments in emerging markets are trying to catch up with more advanced economies, they are more open to data centre developments. For instance, Mumbai in India has become one of the most attractive investment destinations for setting up data centres, thanks to the high quality and cost effective infrastructure like stable IT power load, as well as comprehensive ecosystem to serve data.
At the same time, the rising demand for data centres is driven by the desire of cloud service providers to expand geographically, broadening their reach and offering improved performance such as reduced latency to drive data centre demand and gain first mover advantage in tier 2 markets. For example, Amazon Web Services, Google Cloud and other cloud providers have announced new cloud expansion plans in the region, which will contribute to the increasing number of data centres in tier 2 markets.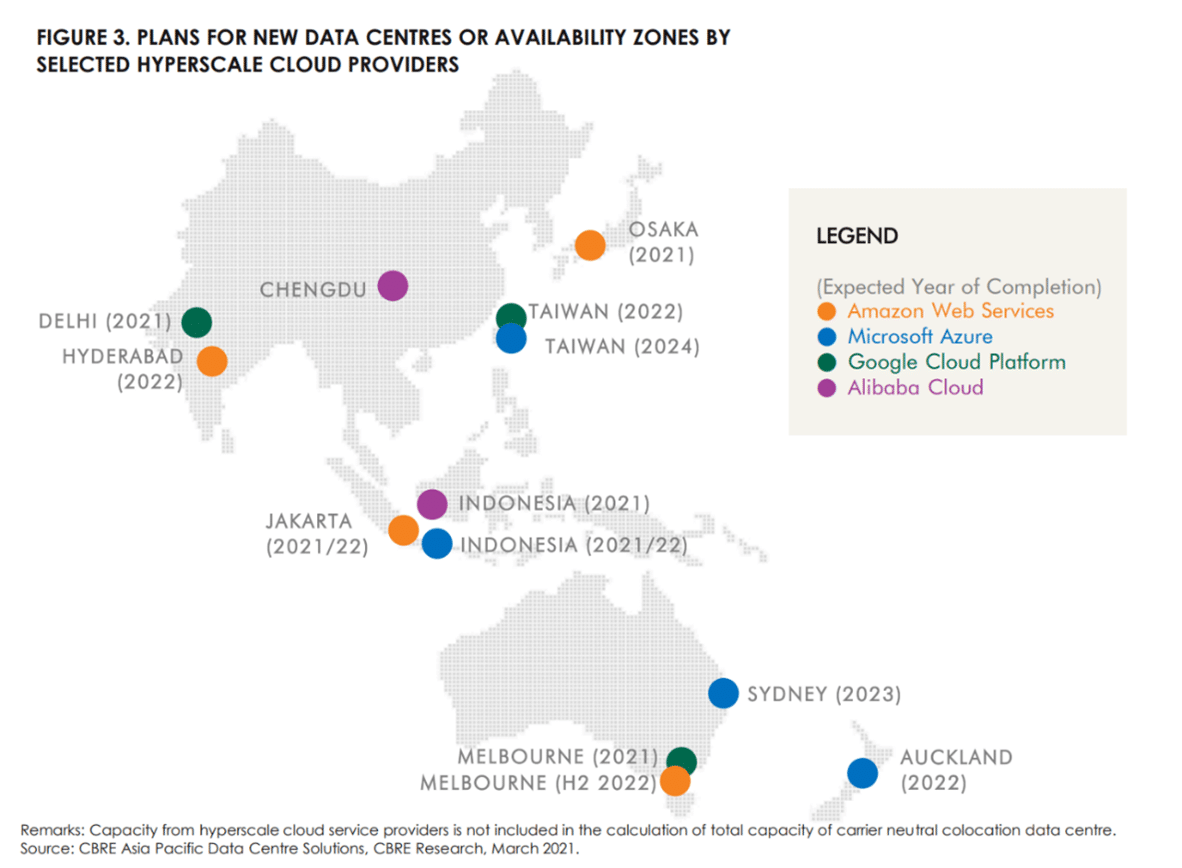 What are the underlying challenges to expansion
While the growth can be exciting, we cannot lose sight of the potential challenges in these Tier 2 markets. Firstly, for developing economies, uncertainty of political stability, lack of intangible resources such as data centre skillsets as well as limited systems and procedures in place can hinder the expansion. It is crucial for governments to provide regulatory certainty and set out a roadmap for data centre investment that addresses its limitations.
Secondly, sustainability is increasingly becoming a higher priority across the Southeast Asian region, with consumers and regulators alike placing greater emphasis on climate consciousness.
Southeast Asia's tropical climate is a challenge on data centre's energy efficiency and the growth of sustainable data centres, as cooling needs represent 35 – 40% of total energy demand to maintain the controlled environment of the servers and IT facilities. Data centre developers will need to rethink the long term sustainability of power supply while ensuring the expansion is meeting future energy demands.
Lastly, industry players need to consider the impact of unstable internet connectivity, power supply or natural disasters that can impact the chances of expansion in shortlisted cities.
At SpaceDC, we have been introducing best practices and cutting edge technologies to the Tier 2 markets. Data centres in these emerging economies should tap into the technological advancements for sustainable growth, especially in today's digital economy. Having said that, governments also need to support data centre operators with adequate legislation and incentives and establish common sustainability standards within the sector.
As we move forward in the digital age, the data centre sector is a part of broader society and it has the potential to be a force for great good and change, that potential needs to be realised in the face of global disruptions, particularly for Tier 2 markets.
We are excited to see how data centres will progress in APAC, particularly how a more united force of change between each country can benefit the wider economy in the region.
By addressing the key challenges in its infrastructure connectivity and equipping with a deeper understanding of each country's data centre landscape, Tier 2 markets in APAC will continue to be the hotbed for data centre expansion and will eventually blur the existing tiering system across the region.
Deep dive into our white papers below to read the latest industry reports on topics ranging from green facilities to data center security and digital transformation.